Mega Airport Oslo V2.0
FSX/FSX:SE/P3D
Article expédiable
Prix excl. TVA plus frais de port
Prêt à expédier immédiatement, délai de livraison env. 1-3 jours ouvrés
Download
Prix excl. TVA
Disponible en tant que téléchargement immédiat
Réf. d'article :

AS12893

Fabricant:

Aerosoft

Développeur:

Jo Erlend Sund

Langue:

English

EAN:

4015918128933

Version actuelle:

1.12
Mega Airport Oslo V2.0 is a highly realistic recreation of the airport with a high level of...
plus
Informations sur le produit "Mega Airport Oslo V2.0"
Mega Airport Oslo V2.0 is a highly realistic recreation of the airport with a high level of detail based on the plans for the 2017 expansion. It includes sharp high resolution textures with beautiful night and seasonal textures. All based on photos taken at the airport. To make the airport come to life the scenery is filled with animations, passengers boarding and de-boarding your aircraft and more.
Oslo Airport has grown a lot in the last years. In February 2013 it surpassed Copenhagen as the busiest airport in the northern European countries for the first time. It has two parallel north/south runways. It connects more than 28 domestic and 100 international routes and serves as the main hub for Scandinavian Airlines and Widerøe.
The scenery features photo real terrain with night and seasonal variations to show the harsh environment during the winter.
Video:
Features:
Fully compatible with FSX, FSX: SE and P3D V3 & V4
High quality models and photo real textures
High resolution runways and taxiways
Highly realistic night time effects
High resolution textures included as an option (2048)
All buildings and installations at and around the airport
Animated Jetways (SODE required)
Animated Passenger boarding (SODE required)
Animated Deice service (SODE required)
Custom animated windsocks (SODE required)
SODE features can be activated or deactivated with included jetway tool
Animations create a living atmosphere
Terminal interior included in high detail
Seasonal textures included
Dynamic flood light effects. (P3D V4 only)
Dynamic head lights on Deice trucks. (P3D V4 only)
Fully functional Docking System and departure countdown included (FSX & FSX: SE only)
Compatible with all AI traffic packages
Static Aircraft included as an option
Selection between yellow and white runway markings during the installation (V1.06 or higher)
---
Awards / Reviews:
Mutley's Hangar - End of Year Awards 2013
Category: Best International Airport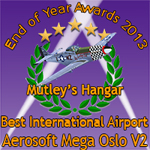 View all results

Conclusion by Airdailyx.blogspot.de:
"Otherwise, just when I thought the previous version couldn't possibly get any better, Jo swings into action and clearly shows just how much his talent has improved over the years. Oslo v.2 is a must buy for all Mega Airport fans! Also don't forget, a new rendition of Trondheim Vaernes is on the way. Pair that with A-flight Helsinki, DFS Arlanda, and the upcoming Copenhagen from Fly Tampa and Scandinavia is alive and kicking! Now if only we could get a proper Amsterdam going. Another Cloud9 product i'm still using!"
---
System requirements:
Microsoft Flight Simulator X (SP2, Acceleration or Gold Edition), FSX: Steam Editin or Lockheed Martin - Prepar3D V3 & V4
Windows XP / Vista / 7 / 8
Processor with 3.0 GHz (Dual Core processor recommended)
2 GB RAM (4 GB recommended)
3D graphics card with 256 MB (512 MB recommended)
Download-Size: 470 MB
Installation-Size: 550 MB
Liens supplémentaires vers "Mega Airport Oslo V2.0"
Version 1.12:
Adjusted jetway elevation and rotation range
Adjusted P3Dv4 spotlight effect to prevent it being loaded more that once.
Fixed flickering Glass textures (FSX, FSX-SE)
Adjusted info text in configuration tool.
Version 1.11:
Fixed FSX & FSX: SE animation:

Fixed static jetway models / parking positions
P3DV4 is using SODE 1.5.1
FSX | FSX:SE | P3DV3 are using SODE 1.4.2
Version 1.10:
Support for P3D V3 & V4 added
Updated Terminal Pier North model and textures
Changed stand numbers to reflect current numbering
Added animated jetways (SODE required)
Added animated passenger boarding (SODE required)
Added deice service (SODE required)
Added custom animated windsocks (SODE required)
SODE features can be activated or deactivated with included jetway tool
Added new NAX hangar
Adjusted flood light effects
Added dynamic light effects (P3D V4 only)
Corrected placement of PAPI fixtures and Localizer models
Version 1.07:
Redone Flatten and Mesh polygons to prevent mesh issues
Added custom 10m DEM mesh covering the surroundings
Version 1.06:
Fixed glass textures

Photoreal adjusted for FTX Norway
Selection: Yellow/White Runway Markings
Version 1.05:
Fixed runway light issue (P3DV2)
Version 1.04:
Fixed issue with some of the files in the config tool