OMSI 2 Downloadpack Vol. 5 - KI-Menschen
OMSI 2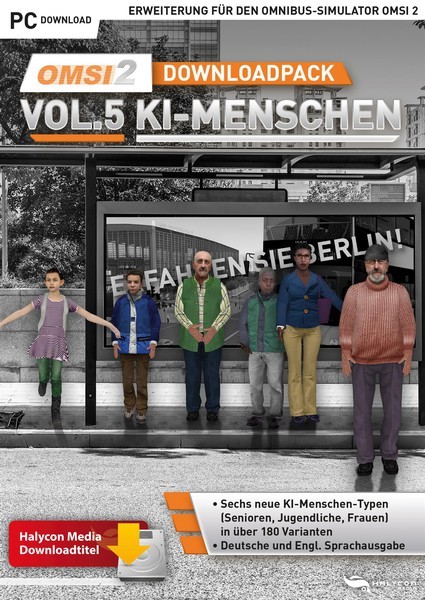 Téléchargement
Prix excl. TVA
Disponible en tant que téléchargement immédiat
Réf. d'article :

AS14225

Fabricant:

Halycon

Langue:

Deutsch/English

Version actuelle:

STEAM
Who is Sid Surley? Don't worry, you'll have a chance to meet the grouchy pensioner soon enough....
plus
Informations sur le produit "OMSI 2 Downloadpack Vol. 5 - KI-Menschen"
Who is Sid Surley?
Don't worry, you'll have a chance to meet the grouchy pensioner soon enough. Sid Surley and lots more new passengers are waiting to board in OMSI2.

They range from mischievous children on their way to school to an impatient old man who needs to get to his doctor's appointment on time. Friendly or bossy , young or old – the Download Pack Vol. 5 has lots of different new AI characters for all OMSI maps.

People of varying ages in a total of over 180 variants with 6 different types and lots of accessories – school satchels, hats, scarves, waistcoats , glasses, bags – offer even more variety.

Over 200 new German voice files have been professionally recorded in a sound studio specially for this add-on, so that children actually sound like children and you can tell a pensioner's age just from their voice. And for the first time, we've included passenger voices in English for English-speaking OMSI players.

With the OMSI 2 Download Pack Vol. 5, you get even more passengers for your OMSI maps – making the game even more fun!
NOTE: Before AI people can appear on existing OMSI maps, the people in the OMSI 2 Download Pack 3 must be added to the maps manually. Follow the instructions provided to achieve this.
Features:
AI people with 6 different body types: 2 men (pensioners), 1 woman and 3 children
The people wear rucksacks, bags, hats, caps and glasses
Over 180 different AI people variants
Can be integrated into commercial and user-created OMSI maps
Professionally recorded voice output in German and English
Over 200 new voice files
Correct ticket names for the OMSI add-ons Vienna 1, Vienna 2, Gladbeck, Metropole Ruhr, Hamburg Day and Night and Hamburg HafenCity
Includes manual and tutorial videos in German and English
---
System requirements:
OMSI 2 (version 2.3)
Processor: Dual Core, e.g. Intel Core i5 with 2.8 GHz or similar (Quad Core with 3.0 GHz recommended)
4 GB RAM
Video card: DirectX 9.0c, 1 GB VRAM (recommended: 2 GB VRAM)
Sound card
1.8 GB free disk space
DirectX 9.0c compatible hardware and software
Internet connection and Steam user account required!
Notes: We provide a serial number with the purchase of this download version. Afterwards, you need to download this add-on via STEAM and activate it. This requires a STEAM account. Further information can be found in the installation instruction. To use this product you have to agree with the Steam Subscriber Agreement ("SSA").
Liens supplémentaires vers "OMSI 2 Downloadpack Vol. 5 - KI-Menschen"