Airport Amsterdam
XPlane 11/X-Plane 10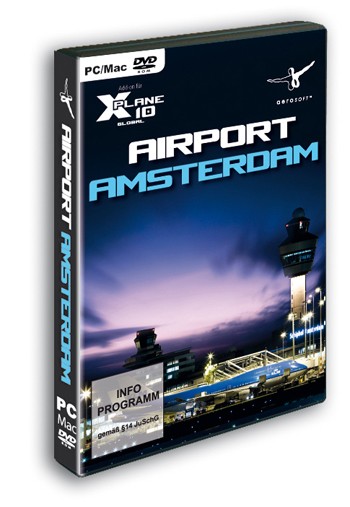 Téléchargement
Prix incl. 20% TVA
Disponible en tant que téléchargement immédiat
Réf. d'article :

AS12523

Fabricant:

Aerosoft

EAN:

4015918121569

Version actuelle:

1.15
Schiphol is located to the south west of Amsterdam near the suburb of Haarlemermeer. The airport...
plus
Informations sur le produit "Airport Amsterdam"
Schiphol is located to the south west of Amsterdam near the suburb of Haarlemermeer. The airport has an average altitude of three meters below sea level and is the "lowest" airport in Europe. The scenery has been modeled to the smallest of details and even features the brand new business terminal on the eastern part of the airport. In addition the numerous static and dynamic objects ensure a lively atmosphere and typical flair of this airport.
Features:
Detailed display of the airport incl. all airport institutions and surrounding buildings
High resolution ground textures based on aerial images
Original display of taxi- and runway signs
New business terminal included
Animated hangar doors
New X-Plane 10 lighting effects
Extensive manual in German and English
Lufthansa Systems FlightNav Inc. Charts
---
Awards / Reviews:
Conclusion by Xsimreviews.com:
"We can't recommend trying this one highly enough; it's the current class of X-Plane scenery files and for a number of reasons. Sheer size has to rank up there, as EHAM is one of the most important airports in the world, but what's been created here is truly excellent by any measure. More remarkable still is that an airport of this size and complexity doesn't bring ALL computers to a meltdown, even with modest HDR active. The OSM roadway situation may rankle, but really…this is a flight simulator and these limitations and compromises are by now well known. When you look over EHAM at night and with HDR active, you'll know you're seeing something really special, but when you use it on a day to day basis as I have been for almost a week you'll come to appreciate this file's strengths..."

Read review
---
System requirements:
X-Plane 10
Windows XP / Vista / 7, Linux, Mac
Processor (CPU): 2,6 GHz Dual Core processor
RAM: min. 2 GB
Graphics card with min. 512 MB
Download-Size: 180 MB
Installations-Size: 320 MB
Liens supplémentaires vers "Airport Amsterdam"